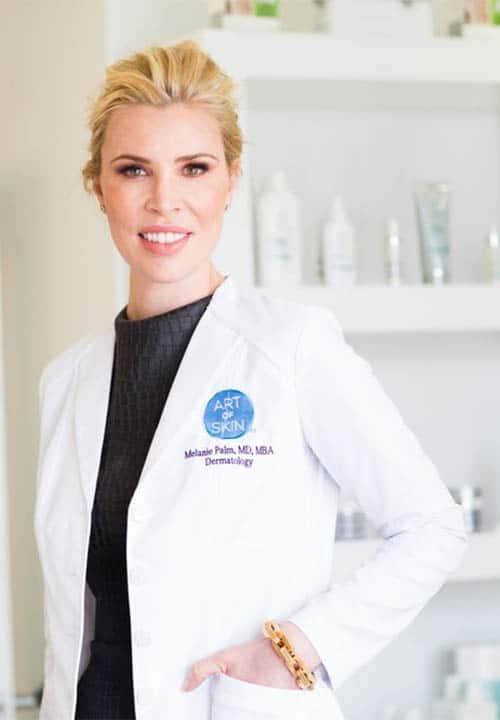 Board-Certified Medical Dermatologist & Cosmetic Surgeon
The art of cosmetic dermatology allows me to weave together my love of art with my passion for medicine. I truly enjoy helping my patients look amazing through every stage of life, ensuring their inner being is reflected in their outer being. I love that I have the opportunity to live and serve the wonderful people of the San Diego community. It is a privilege to build meaningful and lasting relationships with my patients.
Melanie Palm, MD, MBA, is a board-certified dermatologist serving the San Diego, California area. With over ten years of dermatology experience in both Chicago and San Diego, she founded Art of Skin MD in Solana Beach, CA, to bring to life her vision of an environment where patients receive a superior medical and cosmetic experience from a team of caring professionals in a beautiful, state-of-the-art clinic. In addition to Art of Skin MD, Dr. Palm is an assistant clinical professor at the University of California, San Diego, and an affiliate staff physician at Scripps Encinitas Memorial Hospital. She is a medical author, clinical investigator, physician trainer and contributing dermatology expert for various national media outlets. Her vast experience, extensive training, artistic eye and gentle touch contribute to the exceptional care she provides to her patients.
My goal is to interpret beauty for each individual patient, and deliver one-of-a-kind, truly beautiful results.
Dr. Palm understands and places emphasis that each patient is unique, and with that in mind she looks at where they started and listens to their personal stories to combine that with the mathematical and scientific reasons behind beauty. This helps her to create natural, harmonious restorative changes for her patients with a very heartfelt and gentle approach. She is thoughtful in her use of restraint and practices cosmetic dermatology with the premise of beauty, harmony, balance and subtlety. A true testament to her caring demeanor, Dr. Palm is a repeat recipient of both the Patients' Choice and Compassionate Doctor Awards, recognizing her as one of America's most compassionate doctors.
Even at a young age, I have always been inquisitive, with an affinity for medicine and the sciences. As an inherently visual person, I felt immediately drawn to dermatology, especially being able to combine my love for art, harmony and balance in the field of cosmetic dermatology.
Born and raised in Missouri, Dr. Palm graduated summa cum laude from the University of Missouri-Columbia with a Bachelor of Science with a focus in Biochemistry and a minor in Art History. Dr. Palm graduated with high distinction from the University of Chicago Pritzker School of Medicine and the Booth Graduate School of Business. Her constant quest to learn is evident as she was awarded Intern of the Year and completed her dermatology residency at Rush Presbyterian-St. Lukes in Chicago, IL. She served as the Chief Resident during her final year of training and completed her American Academy of Cosmetic Surgery fellowship in La Jolla, CA.
Dedication to the Field of Dermatology
Whether it's sharing experiences and knowledge with patients or colleagues, I deeply care about the advancement of the field dermatology – it's important to exchange ideas and techniques because that is how we continue to elevate each other and this is what is best for our patients. At the end of the day, that is why I do this.
A recognized and proven leader in the field of dermatology, Dr. Palm lectures both nationally and internationally on developments in cosmetic dermatology, sharing her knowledge, expertise and techniques with colleagues. She serves in a leadership capacity for various distinguished dermatology, cosmetic and laser societies, including appointments as Co-Chair of the American Society for Dermatologic Surgery (2017-2018) and Board Member of the American Board of Cosmetic Surgery (2015-2018). She has been called upon for her participation in numerous clinical studies, serving as a clinical investigator, consultant, speaker and Advisory Board member to a multitude of injectable cosmetic and laser device companies including Allergan, Galderma, Merz, Lumenis, Lutronic and BTL. She has become known for her objective voice and innovative approaches in dermatology and cosmetic surgery and continues to strive to work toward the advancement of the field. In addition to her research contributions, Dr. Palm has published over 25 articles in peer-reviewed medical journals and has co-authored five book chapters on various topics including liposuction, photoprotection/sunscreen use, cosmetic injectables, vein therapy and laser and energy-based technology and devices.
As the field of aesthetics evolves, whether a patient sees me or another physician, I want to be sure they have the correct information and are able to ask the right questions to make the best decisions for themselves.
Dr. Palm understands that the field of aesthetics can be daunting, and she values her role in educating the public as she is able to reach people outside of the local area and hopes to help them to make informed decisions in regard to their health. She fills this role with great distinction as she is a highly-regarded media expert to numerous local and national outlets. She contributes regularly to educational pieces for dermatology patients on TV, radio and in print media. Some of her television credits include appearances on The Doctors Show, NBC, FOX, ABC, KUSI and the CW. She also frequently lends her expertise and knowledge to online and print media, including today.com, Elle, Allure, InStyle, Marie Claire, Glamour, Harper's Bazaar, Shape, Self, Women's Health, Redbook and WebMD.
I deeply care for others and philanthropy helps me to feel that I can make a difference outside of medicine, it also helps me to grow a deeper understanding of others.
Dr. Palm finds true joy in being an active member of the philanthropic community in the San Diego area. She is a member of the Amonette Circle of the Skin Cancer Foundation in recognition for providing community skin cancer screenings as well as fundraising efforts in conjunction with like-minded businesses throughout the community. She volunteers her time at the University of California San Diego to provide training for dermatology residents, overseeing the care for U.S. Veterans. Additionally, Dr. Palm serves on the board of Angel Faces, a non-profit that supports teenage women who have suffered traumatic burn scars. She sees true value in being able to positively impact others and rarely turns down an opportunity to do so.
Life is precious and it goes quickly. I'm a better physician for having outside interests, it's important to always be learning and growing.
In her free time, Dr. Palm enjoys exploring local hiking trails as well as road biking throughout San Diego. She loves spending time with her two Cavalier King Charles Spaniels, Georgia and Noel. She also feels it's important to travel internationally to continue to gain an understanding of other cultures. In addition, Dr. Palm has a very deep appreciation for the arts – learning about different mediums and artists from various cultures around the globe is a favorite past time of hers.
Professional Accomplishments
If you are in the San Diego area and looking for a dermatologist near you to treat your medical and cosmetic dermatology needs, call Dr. Melanie Palm at 858.792.SKIN (7546) to schedule your appointment.