Fractional Laser Treatment for Younger Looking Skin
Fractional CO2 Laser Non-Surgical Skin Tightening in the San Diego Area
Dr. Palm uses the Lutronic ECO2 for fractional laser skin resurfacing treatment. She is the first author of a published medical article documenting safety and events following fractional laser resurfacing and is a nationally recognized laser expert and speaker. Her offices are located in Solana Beach, CA just north of San Diego.
What is Fractional Laser Resurfacing or "Fraxel®?"
Fractional CO2 laser resurfacing, sometimes referred to as "Fraxel®, " describes the use of a laser to create zones of heat injury to the skin. This triggers an increase in collagen production that results in skin tightening. Laser resurfacing has become the gold standard for treatment of facial wrinkles and loss of skin tone related to sun exposure and UV damage.
Fractional Laser Resurfacing for Wrinkles, Skin Tightening, and Acne Scarring
Fractional laser resurfacing can significantly improve the appearance of sun damage and wrinkling of the skin. It is often the treatment of choice for acne scarring. Vertical lip lines around the mouth, crow's feet around the eyes, (also see Botox) surgical or burn scars, and brown spots related to sun exposure all can be greatly improved with laser resurfacing.
Decreased Downtime and Risk of Side Effects with Fractional Laser Resurfacing
Traditional laser resurfacing or deep chemical peels used over the last 30 years often resulted in prolonged downtime, requiring up to 4 weeks for skin to heal and up to several months for redness of the treated area. Fraxel laser skin resurfacing creates areas of laser-treated skin next to areas of untreated skin. These alternating zones decrease the downtime and side effects associated with traditional full ablative laser resurfacing. Healing time is greatly decreased to just 3 to 7 days, depending on the depth and intensity of treatment.
Can Fraxel fractionated CO2 laser resurfacing be combined with other procedures?
Absolutely. Other light technologies, as well as injectables like Juvederm, Restylane or fat transfer, are used in conjunction with this fractional laser resurfacing treatment to optimize outcomes. The procedure may be performed comfortably with topical numbing agents. Dr. Palm often recommends Botox or Dysport treatment 2-4 weeks prior to laser resurfacing. This relaxes muscles of facial movement so wrinkles such as crow's feet or forehead lines do not easily reappear after laser treatment.
Can fractionated CO2 laser resurfacing be combined with other laser and light procedures?
Yes fractionated CO2 laser resurfacing is often used in conjunction with other laser and light treatments by Dr. Palm at Art of Skin MD. Dr. Palm nearly always performs an Intense Pulsed Light (IPL) photofacial treatment immediately prior to laser skin resurfacing to enhance removal of broken blood vessels and brown spots. In some patients with a heavy burden of sun damage or precancerous lesions called actinic keratoses (AKs), Dr. Palm occasionally combines photodynamic therapy, IPL, and fractionated laser skin resurfacing during the same treatment session to maximize results and minimize patient downtime.
Does fractionated CO2 laser skin resurfacing hurt? What does Dr. Palm do to control pain during the Fraxel-like procedure?
Dr. Palm and the entire Art of Skin MD staff care about complete comfort of our patients, especially during bigger cosmetic procedures such as laser skin resurfacing. There are several measures we take to make patients extremely comfortable during the procedure. First, patients receive topical numbing in the area of treatment. If appropriate, oral medications may be provided to help with pain management. Additionally, Dr. Palm performs extensive and complete facial nerve blocks with low-dose lidocaine to provide complete anesthesia during the procedure. Most patients are awake but rest comfortably without pain during the treatment.
How long does the CO2 laser skin resurfacing procedure take?
The length of the Fraxel CO2 laser skin resurfacing depends on the area being treated. Typical treatment of the face takes approximately 45 minutes to 1 hour, plus prep time before and post-care after the procedures. Most patients are at the clinic about 2 to 2 ½ hours from check-in to check-out.
What is required after treatment? What are the aftercare instructions after fractionated CO2 laser skin resurfacing?
A significant amount of skin care is required by patients after fractionated CO2 laser skin resurfacing. Comprehensive post-care instructions are provided to patient during consultation and are reviewed with the patient by our staff prior to the procedure and on the day of treatment. Proper skin care following the laser procedure is critical for proper healing, prevention of infections, excellent outcomes. When wound care is followed, patients have downtime but should not be in pain during their recovery.
How much does fractionated CO2 laser skin resurfacing cost?
The cost of fractionated CO2 laser skin resurfacing depends on the area being treated. Because of the difficulty of the procedure, continued and close follow-up, and the excellent outcomes this procedure is often more expensive than other laser procedures such as IPL or ResurFX.
Fractional Laser Resurfacing with the Lutronic ECO2 System
Dr. Palm uses the Lutronic ECO2 system, the newest, most state-of-the-art CO2 laser device for laser resurfacing treatment. The Lutronic ECO2 laser system is an extremely versatile platform. It has several interchangable tips that allow Dr. Palm to personalize treatment for each patient. Depending on the tip or tips used, Dr. Palm can perform completely ablative full skin resurfacing for severe wrinkles and precancerous lesions. Alternatively, Dr. Palm can use one of two other tips to address superficial skin ages to more pronounced photodamage and wrinkles or acne scarring.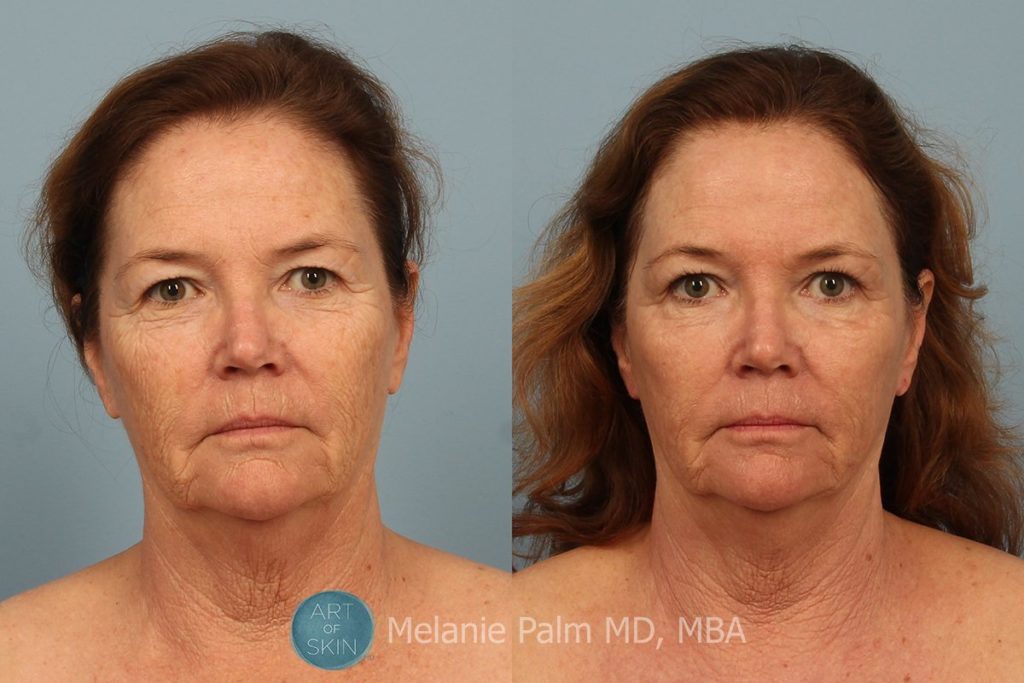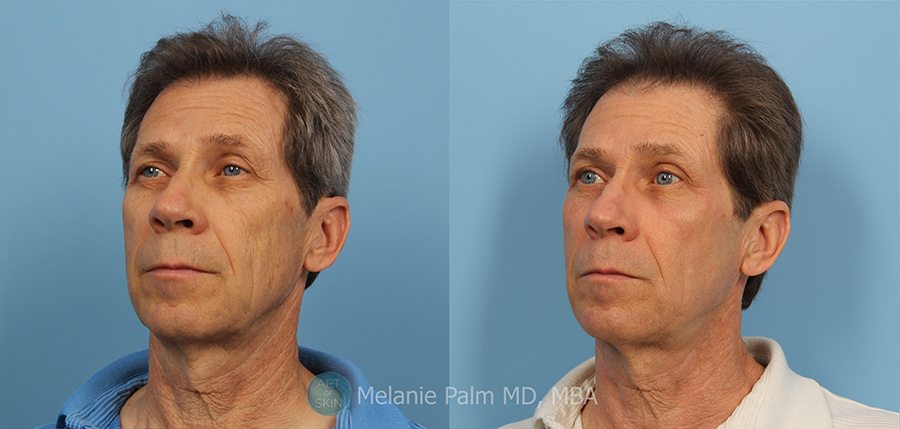 Deep treatment with Lutronic ECO2 120 micrometer tip
The Lutronic ECO2 120 micrometer tip laser treatment is used in areas with significant wrinkles or scarring. Treatment is usually reserved for the face, although burn or surgical scars on the body can successfully be treated with the 120 micrometer tip. This treatment is comparable to other platforms such as the Fraxel Re:Pair and the Lumenis Deep FX™ treatment. The Lutronic ECO2 fractional CO2 handpiece delivers significant laser energy through the first two layers of the skin (epidermis and dermis). This promotes the creation of new collagen in areas of Lutronic ECO2 treatment, leading to skin tightening and the reduction of wrinkles and scarring. Skin texture is improved with treatment. Wrinkles around the mouth and eyes are greatly improved with treatment. Higher energy treatments provide excellent results but require more downtime. Alternatively, a series of lower energy Lutronic ECO2 120 micrometer treatments can improve wrinkling and scarring greatly with a quick recovery time.
Superficial CO2 treatment with Lutronic ECO2 300 micrometer tip
The Lutronic ECO2 300 micrometer tip allows superficial CO2 laser resurfacing. It is used to treat superficial wrinkles and fine lines and tightens lax skin. The Lutronic ECO2 improves the appearance of brown spots and is used in the treatment of photodamage, sun spots, and melasma. This treatment is comparable to the Fraxel Re:Store or the Lumenis Active FX™. The Lutronic ECO2 300 micrometer tip is usually used on the face but is also safe for use on the neck, chest, and hands. Treatment is completed as an in-office procedure and takes approximately 30 minutes to perform, depending on the area being treated. Treated areas of the skin begins to flake off in 2-3 days, and make-up can usually be applied around 4-5 days after treatment.
Combined treatment with Lutronic ECO2 120 and 300 micrometer tips
The Lutronic ECO2 120 and 300 micrometer tips can be combined during the same procedure to address multiple skin issues. By using both superficial and deep laser resurfacing, combination ECO2 treatment maximizes improvement of wrinkles, scarring, loose skin, and skin discoloration. This combined treatment is comparable to the Lumenis TotalFX. Downtime is relatively unaffected by combining the two procedures. Combination tip treatment with the Lutronic ECO2 is most commonly used to treat facial wrinkles, sun damage, and acne scarring. It removes unevenly pigmented skin and promotes new collagen formation. This process of skin renewal continues for months following the procedure.
Full ablative laser resurfacing with the 1000 micrometer Lutronic ECO2 tip
The Lutronic ECO2 1000 micrometer tip is used for severe cases of sun damage and wrinkles, sometimes termed "dermatoheliosis." This procedure is performed less commonly today because of increased downtime of 1-3 weeks. During this treatment, the top layer of the skin called the epidermis, and a part of the second layer called the dermis is completely removed, and allowed to regenerate over the ensuing post-procedure period. The increased downtime associated with the procedure is balanced by more significant results. The 1000 micrometer tip by Lutronic is sometimes used for smaller skin area applications. For instance, if the lip area has significant sun damage resulting in precancerous lesions called "actinic cheilitis." The Lutronic ECO2 1000 micrometer tip can be helpful in completely resurfacing that area, revealing new healthy skin cells to replace the damaged ones.
Are you interested in Fraxel fractional CO2 laser resurfacing to reduce wrinkles and improve the overall tone and firmness of your skin? If you are in the San Diego area, or plan on visiting the area in the near future, call Dr. Melanie Palm at 858.792.SKIN (7546) to schedule your appointment.